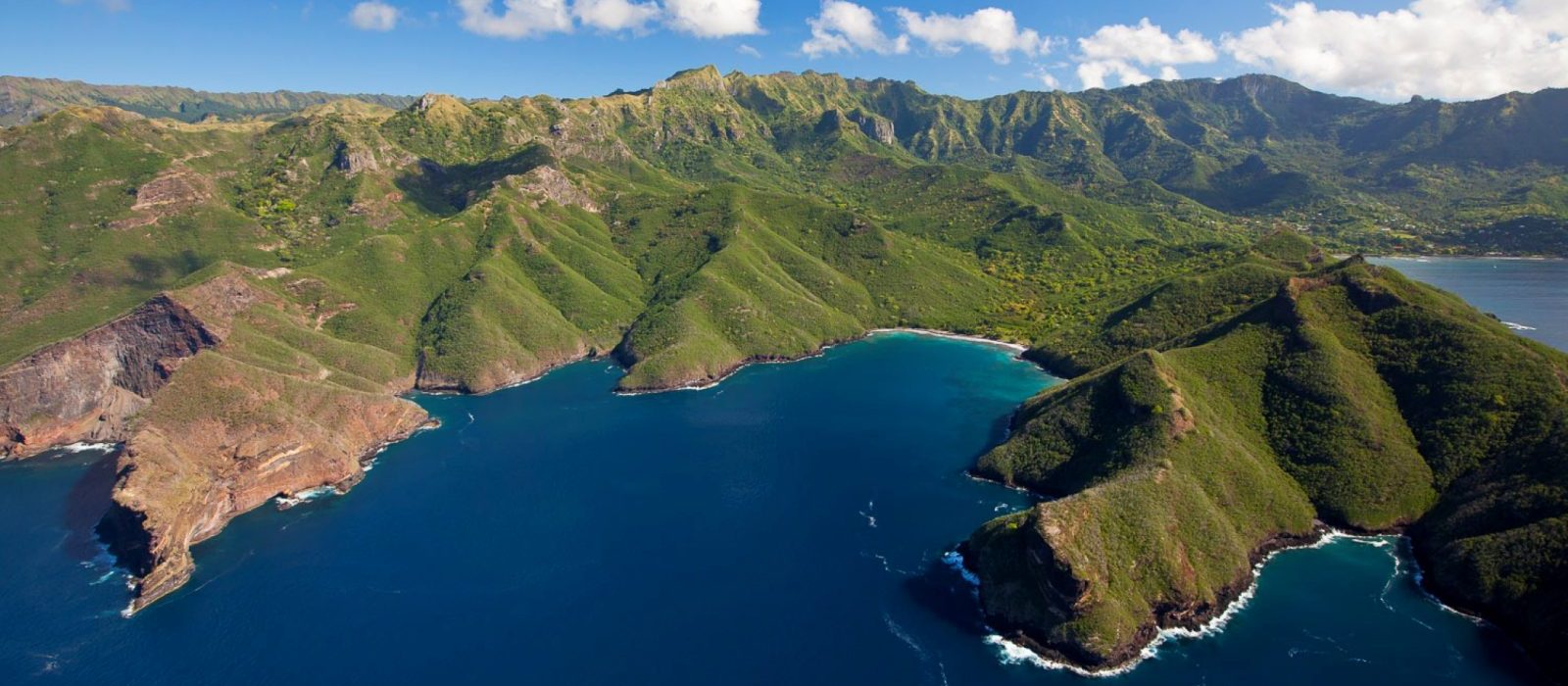 From the air, a small air strip appears on a deserted land… 3 hours and 45 minutes from Tahiti. The views are impressive. We will soon be landing in Nukuataha, "Terre Déserte" – Desert Land – airport and reach Nuku Hiva's administrative center, Taioha'e, following a ninety-minute land transfer.
The ride from the airport to Taioha'e is magnificent. Landscapes in Nuku Hiva vary from pine forests, cliffs covered with ferns to Arizonian-like canyons. Families of wild horses and goats wander along the road. 
For the adventurer, the culture-seeker and the nature-lover, Nuku Hiva is a treasure chest.
Sheltered in the deep Hakaui valley, the Vaipo waterfall is the tallest waterfall in The Islands of Tahiti and for fun facts, the third highest in the world. 
The archaeological site of Kamuihei is one of the largest excavated in Nuku Hiva. In the center, an imposing banyan tree believed to be over 600 years old spreads its branches like an armor protecting the sacred stone platforms. Engraved in the stones of Kamuihei, different petroglyphs remain, witnesses of an era long gone. Kamuihei is grand… It is time to slow down and feel…
In Anaho Bay, the mountains, the beach and the ocean merge to offer a dreamy scenery.
At the Taioha'e village, talented local artists showcase their exquisite wood or stone carvings while the mamas – affectionate name for the older ladies – share displays of dried bananas, honey, massage oils infused with flowers and herbs, jewelry made from carved bones or earthy colored beads. 
In the story of creation of the Marquesas islands, Nuku Hiva represents the rafters, holding the roof. In real life, Nuku Hiva is the administrative center and the largest of the Marquesan islands.
On foot, on horseback, by boat or by 4WD, there are multiple ways to explore Nuku Hiva. It is time to wanderlust! Adventure awaits.