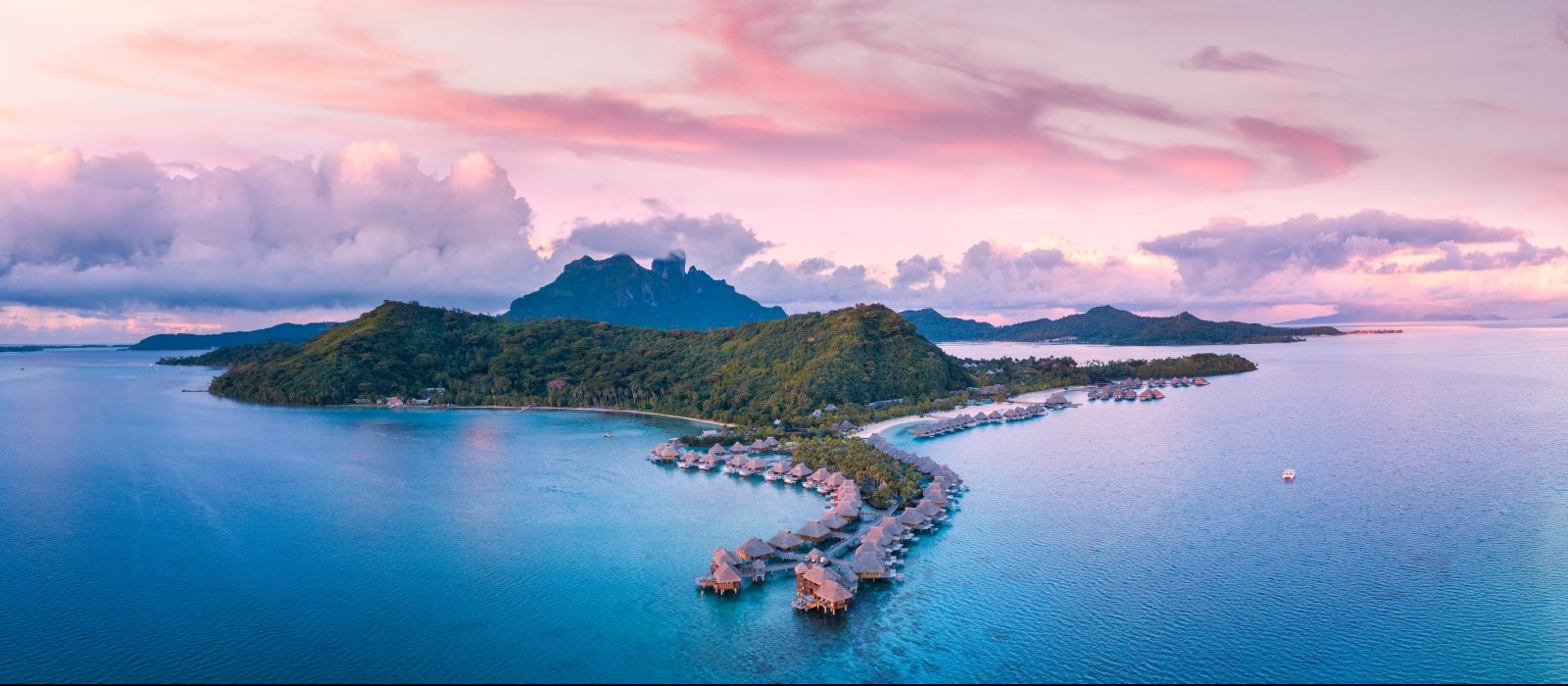 CONRAD BORA BORA NUI, BORA BORA
Legends tell the story of two bells hidden among the rocks that make the top of Motu To'opua. It is said that legendary hero, Hiro, had two bells built: one with a high-pitched sound that resembled the gods' voices to scare the enemy, and the other one with low-pitched sound to ring the end of a battle or time to retreat. Ancients say that the bells could be heard all the way to the village of Vaitape, some others say that it could be heard all the way to the island of Maupiti.
On Motu To'opua islet, resting below the bells of Hiro, Conrad Bora Bora Nui is a stellar hideaway suspended between water and sky. Views merge into the infinite lagoon's hues of blues, giving the property a unique sense of place.
Conrad Bora Bora Nui is the only property located on that side of the island, a short boat ride away from the main village of Vaitape.
The resort features the longest stretch of white sand beach in Bora Bora and its very own Motu Tapu – the "Forbidden Island" – for the ultimate private islet escape.
Rising like the guardian of this pristine sanctuary, Hina Spa sits on top of the resort's hill, offering unrivaled panoramic views of the lagoon, Mount Otemanu and the neighboring islands. The impressive lava rocks, from which emanate powerful energies, plunge into the lagoon, offering contrasting yin-yang vistas. From the "Million-Dollar View" open air massage cabin, guests can replenish with the natural elements and the therapists' healing touch.
Dining comes with a lovely array of cuisine from the world as well as Polynesian delicacies. At Iriatai, the resort's gourmet dining venue, French fare meets islands' goodness to create tantalizing flavors and scents, that match the property's beautiful and bountiful grounds.
The owner's wife herself is the conductor of this perfectly balanced landscape that make the Conrad Bora Bora Nui the glamourous gem it is.
For those ready to give back during their vacation, the Biorock™ program helps restore the island's underwater flora.
We love : 
The "Million-Dollar-View" open air massage cabin

The hillside villas overlooking the lagoon

The setting, where basaltic stones blend with the lush gardens