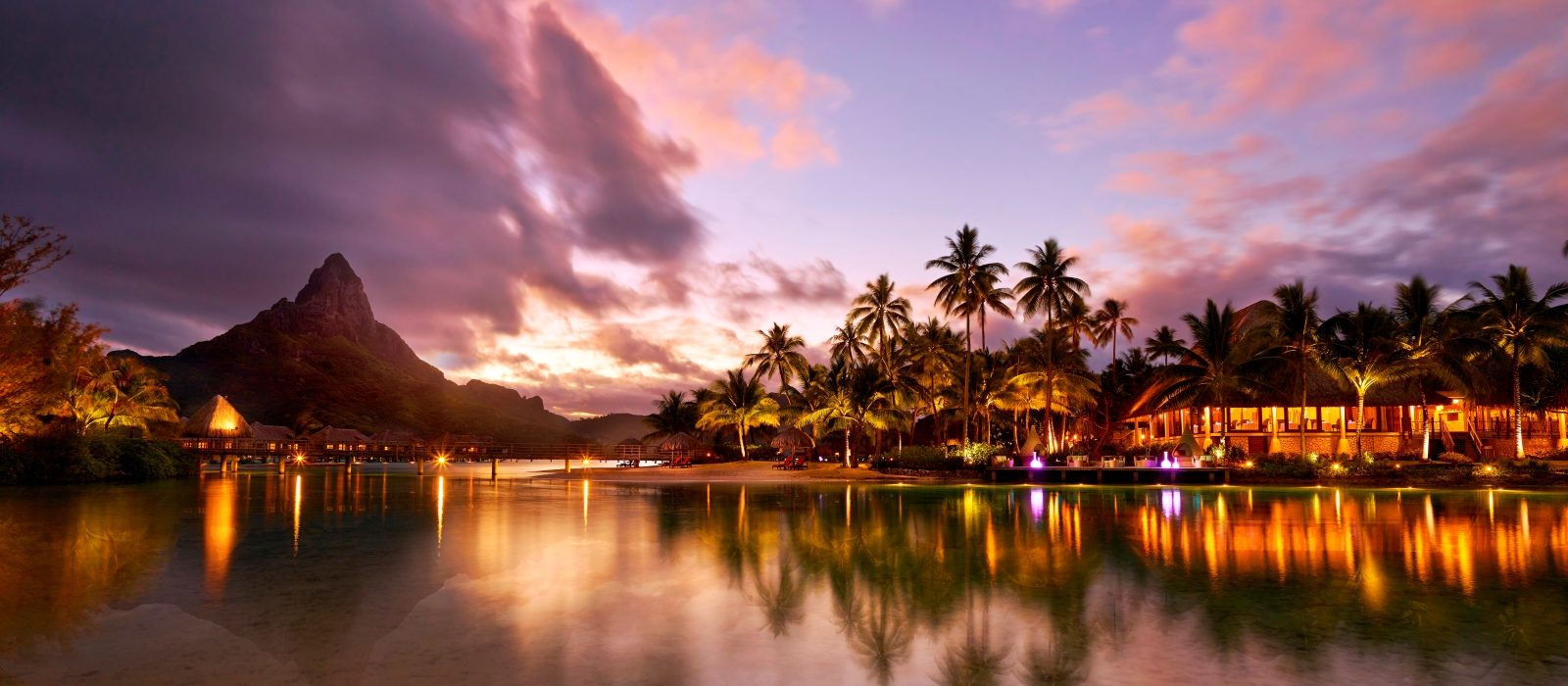 INTERCONTINENTAL BORA BORA RESORT & THALASSO SPA, BORA BORA
Floating between Bora Bora's pristine lagoon and the Pacific Ocean, Intercontinental Bora Bora Resort & Thalasso Spa opens onto a world where Polynesian architecture meets contemporary style.
It is the only luxury resort featuring solely overwater villas and suites. Sleek, pure, stylish define this environmentally savvy sanctuary where water from the deep seas is pumped to cool down the rooms and supply the Deep Ocean Spa for its various treatments. The Intercontinental Bora Bora Resort & Thalasso Spa was the first resort in the world to use the incredible sustainable technology of frigid deep-sea water pumping to feed the air-conditioning system. 
As the first ocean-themed spa in The Islands of Tahiti, the Deep Ocean Spa offers a full range of services and treatments that are infused with all the benefits from the sacred water element, like a tribute to the people of the ocean that Polynesians are. Spanning over bountiful garden, Deep Ocean Spa is a true retreat of serenity and bliss where guests can surrender and rejuvenate.
A stay at the InterContinental Bora Bora Resort & Thalasso Spa is a culinary journey across continents. Among the highlights are the themed dinners that bring a full spectrum of Polynesian culture into the spotlight. Foodies and wine aficionados will enjoy Le Corail gourmet dining, the resort's signature restaurant, which also features the destination's largest wine cellar.
Poised on Motu Piti A'au – the "islet of two hearts" – overlooking the enchanting peaks of Mount Otemanu, InterContinental Bora Bora Resort & Thalasso Spa is utterly romantic and an invitation to tune into the soft melody of Life.
We love : 
The Deep Ocean Spa and its treatments using the natural benefits of water drawn from the depths of the Pacific ocean

The glass-bottom chapel of love with stunning views of Mount Otemanu

The striking Bubbles Bar