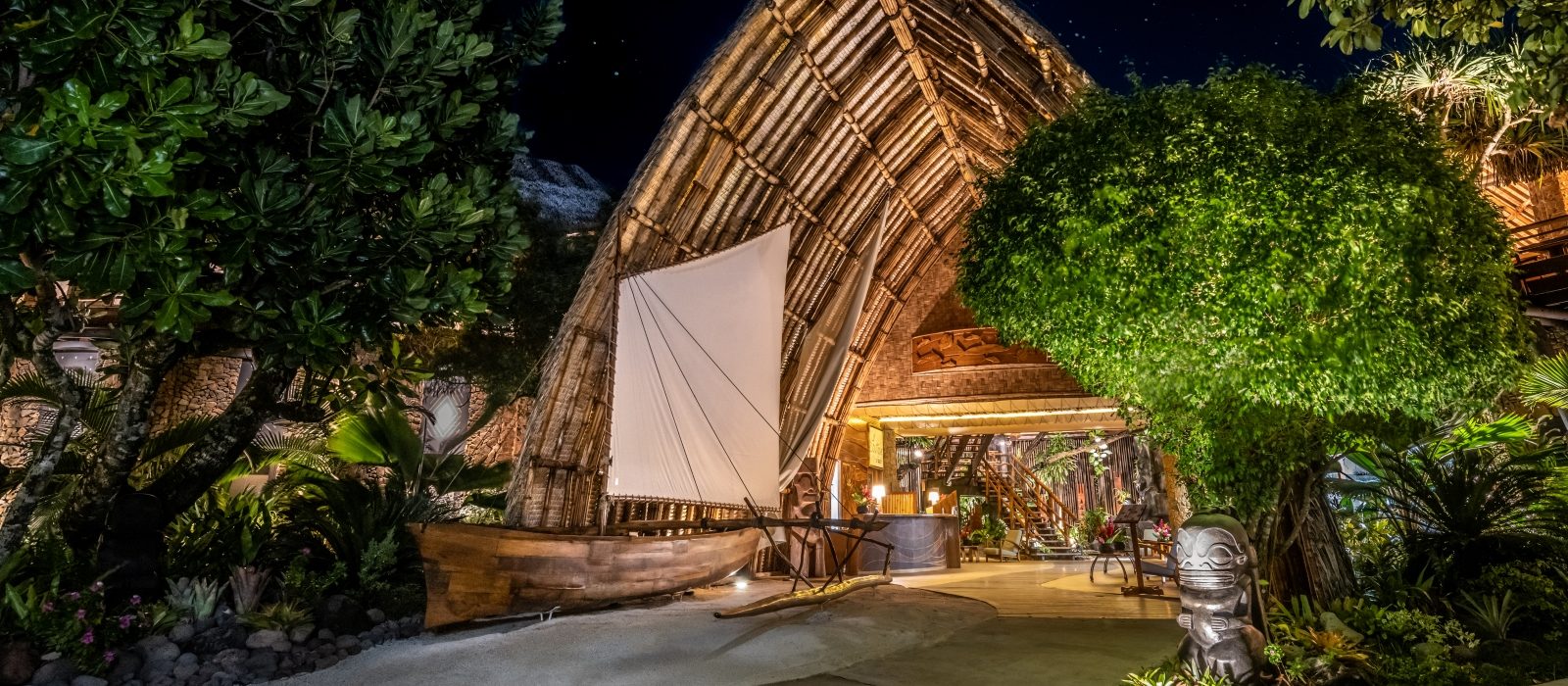 LE TAHA'A by PEARL RESORTS, TAHA'A
Poised on Motu Tautau, a 40-minute boat ride from Ra'iatea, Le Taha'a conquers by its sense of place and authentic personality.
Between heaven and ocean, this little gem of the exclusive Relais & Chateaux collection faces the majestic silhouette of Bora Bora on one side, and panoramic views of the verdant Vanilla Island, Taha'a, lagoon side.
Here, design is drawn from nature's bountiful gifts from mountain to sea, delivering the ultimate, sophisticated island charm. Bamboo, native woods, stones, corals, shells, woven fibers and tapa are integrated into the resort's architecture, as a poetic ode to its unique surroundings and heritage.
Early morning strolls in the lagoon are spectacular at Le Taha'a… a moment of perfect harmony with the nurturing environment, bringing one back to the essence of what is, to inner peace, to simplicity and, well… to the magnificence of Life… 
Breakfast is taken among the trees with views of the lagoon, lunch is with feet in the sand by the pool, and in the evening, the wine bar comes alive as the gathering place before or after dinner.
As a Relais & Chateaux property, cuisine is elevated to an art and whether at lunch or dinner, plates reveal palettes of colors and shapes that delight the palate. When French savoir-faire meets local ingredients, magic happens, and guests can infuse all senses with an inventive alchemy.
At Le Taha'a, guests feel revived by poetic mornings, heart-warming sunsets and evenings filled with bright shining stars and the Milky Way.
A masterpiece of Polynesian architecture highlighting the theme of the outrigger canoe that symbolizes the incredible migrations of our Polynesian ancestors, Le Taha'a celebrates to the timeless Tahitian hospitality and the rich legacy of the island's people.
We love: 
The pristine lagoon surrounding the resort

Breakfast suspended in the trees

The sunset views from the resort's heliport